On single card TCG orders over $50.00, during checkout select USPS First-Class Mail Parcel for shipping method then enter coupon code freeship which will make your shipping FREE.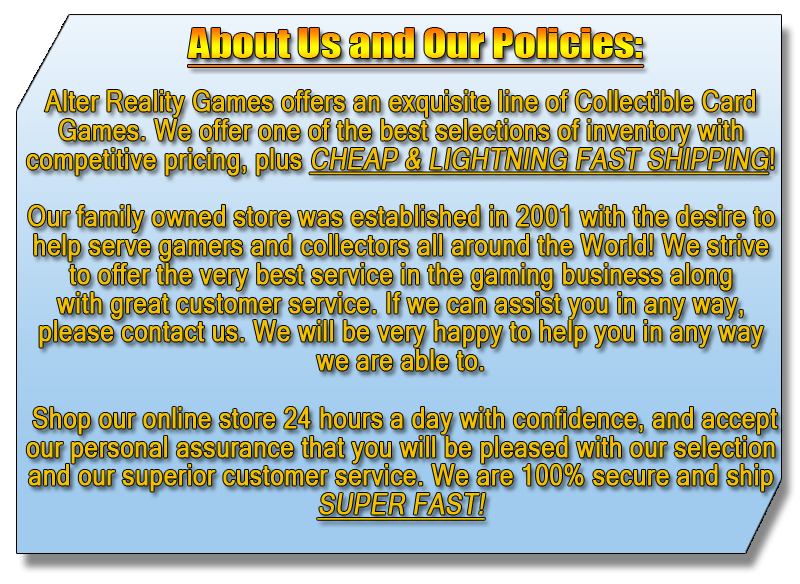 Shipping Information:

We generally process and ship orders with-in 24 hours after we receive them. In most cases orders received before 8:00AM EST will ship same day. Please be aware that there are certain exceptions to shipping times due to Credit Card processing, or Item availability. If there is going to be a delay of more then 1-2 days with your order we will contact you via email or telephone to explain. We are now shipping 7 days a week! (Exceptions Holidays and Pre-orders, see below).
We offer FedEx & USPS for shipping options, you can choose a wide range of options that meet your timeline to receive your order. Please keep in mind it could take up to 24 hours to pull & process your order.

Refund, Returns and Cancellation Policies:

We no longer offer refunds. We do offer exchange for the same product in case of shipping error or damaged or store credit for a future purchase.

OTHER INFORMATION: We reserve the right to limit quantites of an item purchased or make adjustments if needed. Our goal is to offer a great selection for our customers. We are not a distributor or sell to other on-line stores.

OTHER DISCLAIMER: In the event of a pricing error, policy change, inventory error on banned or unbanned cards, announcement of a card being reprinted, a new card is printed that makes an old card good and everyone (dealers and players) are trying to snipe items for ebay purposes, and/or a customer somehow placed an order from a cached page after an item was already priced up we reserve the right to refuse any sale for any reason.

Pre-Orders Policy:

All pre-orders require full payment at the time the pre-order is placed. We use many different distributors to get more product and receive on time or a little early. Alter Reality attempts to fill every single order. Sometimes, for reasons out our control delays, augmentations, or cancellations somes become necessary.

If the customer wants cancel their pre-order before we ship, we will refund the full amount to the customer minues our restock fee of 20% for sealed product, unfortunately we cannot refund for singles in pre-orders since the price can change up & down and if we let customers cancel their orders when a card goes down it would be a double standard because we are sure they won't cancel when the price goes up. We reserve the right to cancel any orders or refuse to cancal any order for any reason at any time and for any reason.

We reserve the right to change prices at any time. We prefer to never change a price once it's been offered for pre-order. However, because of the very nature of the collectible business we sell it is rare to have all of the information on product distribution that is required to make an intelligent decision on the correct price of a product. Sets and any other items that we assemble do not have a guaranteed pre-order price. If a price increase is required we will notify you via email, if we do not have a response we will cancel your order as we would never take payment without authorization.

If the customer adds instock items to their pre-order, the items in stock will not ship first, they will be pulled & boxeed then shipped with the pre-order item within 1 day of the pre-order items release date. Most Pre-Orders are guarenteed for up to 48 hours after a products release date, exceptions may occur.
Alter Reality's Shipping Policies
Shipping is calculated by address and shipping method. Put items in your cart and then you can click on estimate shipping to make the best choice for your order.
In-Store Pick Up Orders for Medina: Orders in before 8am can be picked up that day afer 3pm in most cases.
INTERNATIONAL SHIPPING
***We only ship single cards outside the USA, no exceptions.
***Orders under $99 can be shipped 1st Class International all orders over $100 must select FedEx for delivery. If incorrect shipping method is selected we will cancel order and refund, no exceptions.
The arrival times shown for International shipping include the amount of time it takes for an order to reach the recipient's local post office, plus the time it takes for that order to get from the local post office to the recipient's address. This can vary widely from country to country.
*** USPS Airmail mailing not trackable online. FedEx shipping is trackable online.
*** International Customs/Import Duties. On International orders, customs and import duties are applied once the shipment reaches its destination. These charges are the responsibility of the recipient of your order and will vary from country to country. Contact your local customs office for details.